So What Is Phone Sex? What's it all about?
Phone sex is when two consenting adults engage in sexually explicit conversations on the phone. Whether it is a couple in a long-distance relationship keeping the romance alive or a guy calling a phone sex chat line for his sexual pleasure, it all falls under the umbrella of phonesex. Many Sites offer these types of services for adults.
It requires a lot of imagination on the part of all parties involved. It Is basically virtual sex between 2 people who can't see each other, so graphic descriptions and vivid explanations of what each other is doing or wants to do to themselves or the other person are key to making it work.
You Can Also Check out the Skype phone sex girls here
When utilizing phone sex, most people will use a shared fantasy or roleplay that turns them on. Rarely will it just be a description of lovemaking. The act itself is an incredible turn-on, and as such, things usually get heated and explicit.
When done between a couple, it can sometimes involve the sharing and sending of explicit pictures to each other. At least one, but usually both, parties will engage in self-sexual gratification (masturbating) during the acts.
Benefits Of Phone Sex
Click here for Live phone sex 3 free Minutes
There are many benefits to phone sex over traditional sex. These include –
– Fewer sexual risks. Phonesex means there is no risk of a pregnancy occurring. There is also no chance of an STD (Sexually Transmitted Disease) since there is no exchange of bodily fluids. These two reasons alone are why so many men decide to call
– Encourages open communication about sex. Many people struggle to open up and be honest about what they like and what turns them on. For most, it is far easier to do it over the airwaves. It is a lot easier to let yourself go and be open about your kinks, fetishes and fantasies
Check out the Blackgirl skype sex cams
– Easy access to sexual gratification. Many people struggle to form sexual relationships and will instead use paid phone sex lines to get their kicks. It is an ideal alternative
– Keeping intimacy alive. Long-distance relationships are tough. Many don't make it, and the lack of intimacy is the main cause. Phone sex is a perfect way to keep the romance going and give a long-distance relationship a fighting chance
These reasons and more are why phonesex is such a key area of the world we live in. It provides a stressless, seamless aspect of one of human beings' most basic impulses. Make sure to check out the bdsm phone chat  for other kinky phone sex ideas
For people (mostly males) who decide to use phone sex chat lines then, there is an array of choices. There are lots of sites that offer this service, and they are all filled with gorgeous women, guys and trans of all ages and ethnicities who can be sensual or extremely hardcore, depending on the mood of the caller. Some of the phone sex girls we discuss throughout this site offer skype so you can see them as you are chatting, which can really enhance any time of phone sex chat  see skype cam girls page for information on skype
These sites Vary in price as the phone sex operator makes up their own prices so it can be anywhere from 99cents right up to $4.99 to call, but they offer no-holds-barred live sex, and it is all geared around what the payer is after and what he wants, so for many, it is more than worth the cost.
As previously mentioned, the biggest key aspect is descriptions. It is vitally important to be as descriptive as possible. It helps to set the scene and for both parties to get into the mood and swing of it.
Vividly describing what each other is wearing, what you are doing, what body parts you are touching and most importantly, what you want to be doing to each
other are all important areas to discuss
.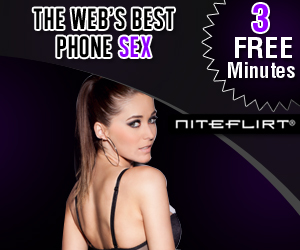 Phone Sex Fantasy Roleplay
Phonesex is a perfect time to delve into your fantasy bank and let all those dirty, kinky fantasies you have rolling around in your head let loose. This is another benefit to calling a paid phone sex chat line. The girl on the other end of the phone is there for you. What you want is all that matters. If you are two mutual partners, then you both need to be up for the fantasy. With phone lines, she will be up for anything!
There are many benefits to having phone sex and very little downside. It is a fantastic way to blow off steam in a non-judgemental environment.
The girls you call will all be experienced and capable of giving you exactly what you want and need.
So give it a try. Who knows, you might like it!
At phonemistress.co.uk we like to write about all things phone sex and webcam related, to help give you a better understanding of how these sites work and how to find the best sites to meet your own needs. I have written this site using my own experiences to help you make better choices and to stay away from sites that could potentially be a scam. I only write about sites that have been in the adult arena for many years and have a good reputation
What is cei in phone sex?
CEI stands for "cum eating instruction." It is a type of phone sex where the operator gives verbal instructions to the caller on how to pleasure themselves sexually, often with the goal of the caller ejaculating or reaching orgasm. The instructions may include describing specific actions or fantasies, and may also include elements of humiliation or domination, the phone sex operator will then give instructions on how to eat it, where to eat it from, how much to eat, and to admit that they are a cum eater.
What is joi in phone sex?
JOI stands for "jerk off instruction." It is a type of phone sex that involves the operator giving verbal instructions to the caller on how to pleasure themselves sexually, often with the goal of the caller ejaculating or reaching orgasm. The instructions may include describing specific actions or fantasies, and may also include elements of domination or fantasy role-play. It is similar to CEI (cum eating instruction) but the term JOI is more general and doesn't necessarily imply the action of eating, the operator will say how many strokes, how fast how slow and this can lead to edge play,
What is Mommy Phone Sex?
Mommy phone sex specifically refers to a fetish or fantasy role-play where one of the parties role plays as a mother figure. This could involve the individual calling the phone sex service pretending to be a child, and the person on the other end of the line taking on the role of a nurturing, maternal figure. The conversation and role-play could involve various scenarios such as being scolded, disciplined, or being taken care of as if a child. It is important to note that this kind of phone sex is not suitable or appropriate for everyone, and it is important to have open communication with the partner and to make sure that all parties involved are comfortable and consenting before engaging in any form of role-play or phone sex.